WATER/AIR CHEMISTRY
EMULSIONS
SEPARATION SCIENCE
II- ANALYSIS TECH
III-CONTRACT TESTING
ODORS/AROMA
NATURAL PROCESS
HOME
CHEMICAL ANALYSIS LAB INVESTIGATIONS; PROCESS
ENGINEERING;
INDUSTRIAL AND ENVIRONMENTAL FORENSIC CHEMISTRY

"Without the data, it's just another opinion."-- W. Edwards Deming

R. W. HEIDEN ASSOCIATES, LLC provides confidential services in the form of chemical analysis, process and material science, engineering consulting, chemistry based chemical investigations, industrial forensics, analytical chemistry laboratory technology, process analysis technology, biochemical science, and contract research to government, industry, engineering and other commercial firms of all sizes. We also provide litigation, patent and insurance claim support, and by contract, routine analysis services that capitalize on years of experience in select multi industry technological arenas, such as plastics and polymers, corrosion, oxidation, water contamination, water purification, fats and oils chemistry. Go to Services for an overview.

Visit biodiesel testing to explore one of our comprehensive offerings in the diesel fuel arena where we have successfully provided routine ASTM and specialized testing services, research, and process engineering support for over 20 years. Subscribe to our top-notch quality analysis programs. Connect with our research programs to improve biodiesel processing and quality. Read about recent research we have done to unravel the causes and prediction of fuel filter plugging incidents associated with blended biodiesel fuels during cold weather. Also, we have expanded our capabilities to include detailed and routine analyses of glycerin, blends, fat and oil impurities-this to support our research in these arenas. Take advantage of our value added expertise at competitive rates.

We have the tools to take your product, process or project to the next level. The work we do involves chemical measurement science and technology (see Core Expertise). We are experts in this arena and can tailor design an investigation to suit your needs, manage and organize the project, and empower key people to get the job done. (see About Us). We add definition and certainty. And that's the basis of informed decisions !

R. W. HEIDEN ASSOCIATES is known for creative applications of chemical principles and management skills to a broad range of technical problems, often using highly sophisticated analytical chemistry laboratory tools, leading to successful solutions of complicated manufacturing, development, engineering and research challenges, and complex chemical and biochemical measurement puzzles, since 1987. If this experience and depth is what you are looking for Contact Us, and let us get to know you. Click on and answer the 11Questions to ask yourself, should you wish to explore ways you can use us for your project.

NEW ! Published article entitled- "Bias and Imprecision in the Determination of Free Glycerin in Biodiesel: -The Unexpected Role of Limitations in Solubility". Click here to access the on-line version.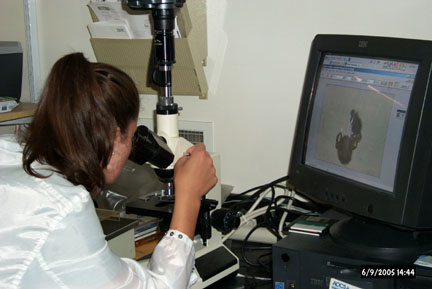 R. W. Heiden Associate's technician observing oil-bearing algae