ASTM BIODIESEL QUALITY TESTING AND BIOFUEL ANALYSIS LABORATORY -GLYCERIN TESTING/ FUEL FILTER BLOCKAGE ANALYSIS/FEEDSTOCK TESTING/ PROCESS TROUBLESHOOTING/ PROCESS DEVELOPMENT LABORATORY
MITTELBACH VISITS THE RWH ASSOCIATES LABORATORY !
CLICK ON THE FOLLOWING FOR ADDITIONAL INFORMATION OR ASSISTANCE.
BIODIESEL ASTM D 6751 AND BQ 9000 TESTING - Routinely monitor B100 and blend quality.
NON ROUTINE BIODIESEL TESTING PROCESS SUPPORT SERVICES -Investigative services, research, and diagnostics. Routine, NON-Routine testing of impurities, such as sterol glucosides.
GLYCERIN/ GLYCEROL TESTING -Improve glycerin quality and earn more for your coproduct .
BIODIESEL FEEDSTOCK- Changes in feedstock composition can radically alter product properties and quality !
COMPREHENSIVE FUEL FILTER BLOCKAGE ANALYSIS- Find out why those filters are blocked AND improve cold temperature properties !
COSTS OF IN-HOUSE VERSUS OUTSOURCED BIODIESEL LAB TESTING - Inside labs cost a lot more than you expect !
Subscribe to our routine quality testing services or filter analysis packages and your $$$ will contribute to our on-going research efforts to improve the processing and quality of biodiesel !
MITTELBACH VISITS THE RWH ASSOCIATES LABORATORY
Highlighting a week of meetings, Professor Martin Mittelbach of the University of Graz, Austria, a pioneer in modern biodiesel technology, was our guest. During his stay in Lancaster he visited the biodiesel laboratory and discussed the past and future of the biofuel industry.
Dr. Heiden met Professor Mittelbach 15 years ago at a biodiesel conference in Vienna. While there he had the opportunity to witness the beginnings of the commercialization of biodiesel at a small coop owned facility in farm country just outside of Graz. A recent visit to the same facility revealed an expanded biodiesel operation, and the integration of the production facility with a manure processing and a wood biomass combustion facility that produces electricity and heat for 12,000 rural village residents !
Below, Professor Mittelbach, left, is dialoguing with Dr. Heiden regarding the status of ASTM and European testing methods for biodiesel, and future directions.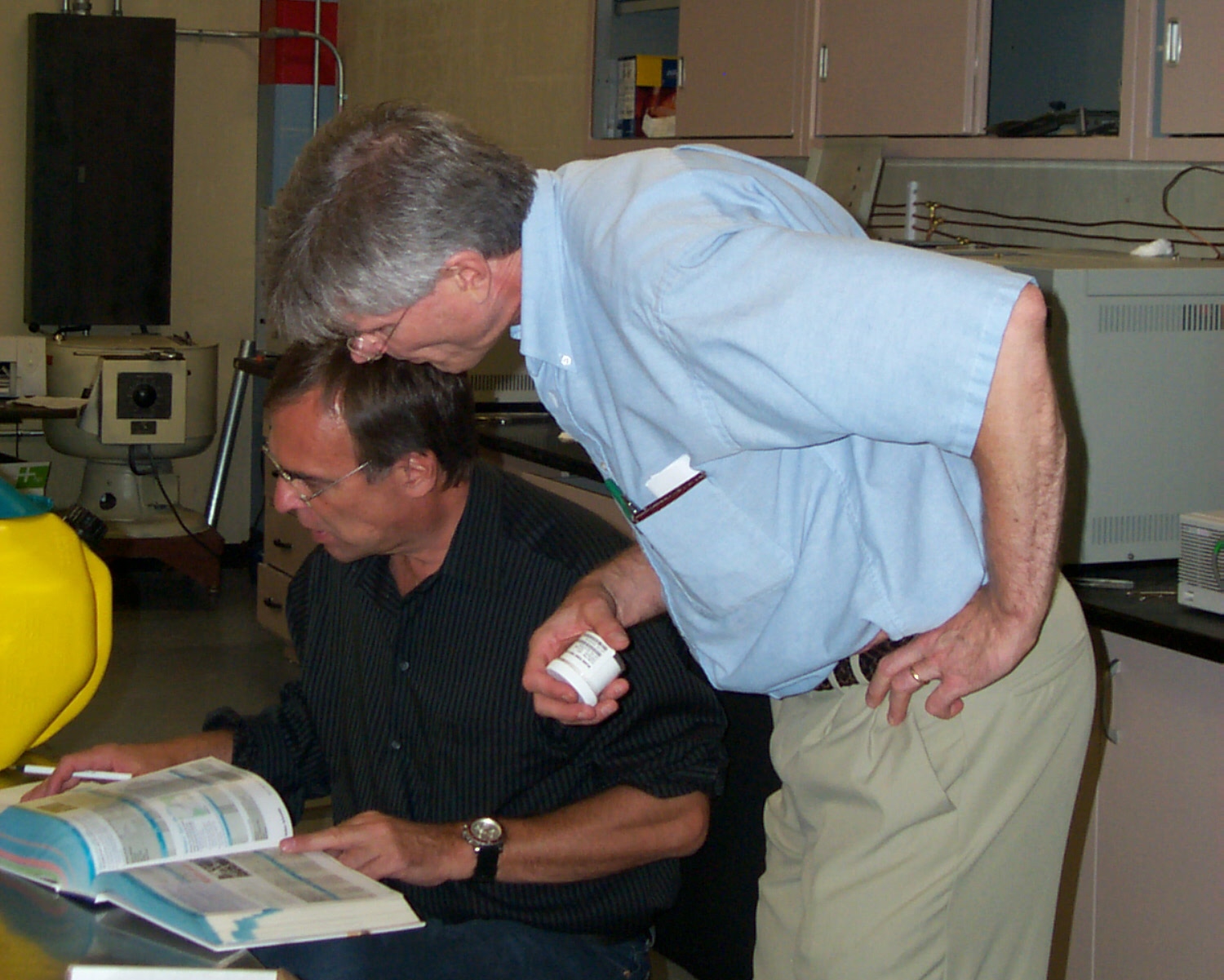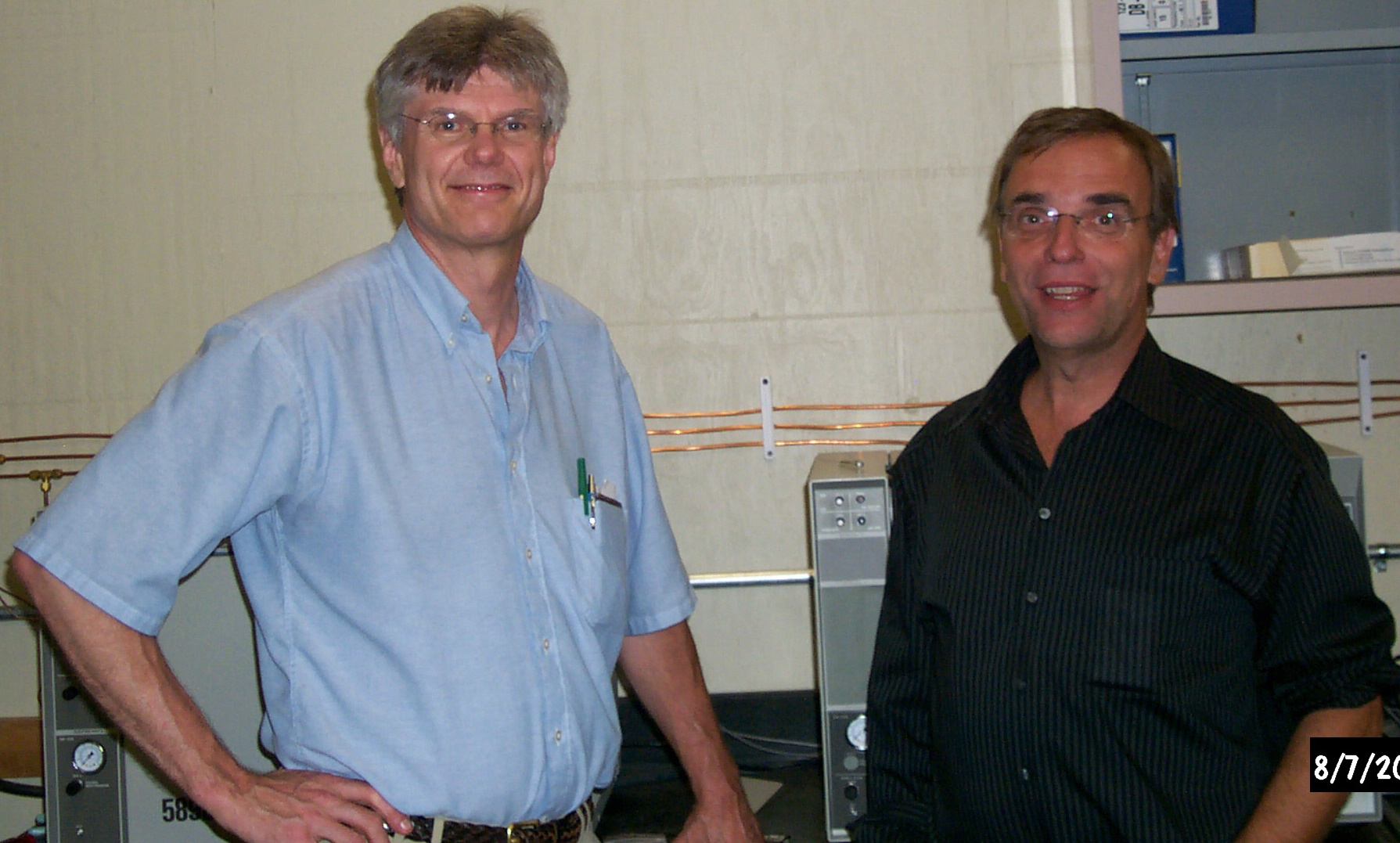 Above, after a tour of the laboratory, Heiden and Mittelbach contemplate a doubles match in badminton against the younger team. We won !
We have provided laboratory investigations, process development, ASTM testing, and troubleshooting support services to the biodiesel industry for over 15 years. We are internationally known and respected for our biodiesel testing and investigative work. We know that producing B100 with the highest quality and ensuring the quality of petrodiesel blends to the end user is essential for continued growth of the industry. And, we can help you get there and/or stay there. So, why would you pass us up ?
Call or email us for rapid attention- mail to:biodiesel@supersleuthchemists.com.
Consider using our unique experiences with the biodiesel standardization process, laboratory technology and insightful perspectives to assist you in creating quality biodiesel ! Contract (Contact Us) our analytical engineering consulting capability to assist.
Use our laboratory and expert personnel for the following:
*Routine testing of critical ASTM parameters- need regular BQ 9000 ASTM quality checks for B 100 and blends ?
*Third Party Testing- want to check your lab's results ?
*Feedstock Viability and Testing- changing feedstock, and need some guidance ?
*Reaction Process Development and Optimization Support- yields less than desirable or glyceride impurities too high ?
*Fuel Blend Impurities and Bulk Composition- question(s) about the quality or consistency of blended products ?
*Comprehensive Fuel Filter Analysis- want to know the cause of those filter blockages ? *
*Glycerin Purity and Value Added Product and Process Development- wish to use waste glycerin as a feedstock for an additional process?
*Purification and Separation Process Development- evaluating a new or existing process for B 100 cleanup or feedstock pretreatment ?
*On-site Process Reviews- need a trained professional to examine and review your B100 process ?
*On-line or At-line Instrumentation- want to know the best for your process ?
*Training and Laboratory Education- need an expert, professional trainer to bring forth confidence in your lab's data ?
If your answer to any of these questions is "yes" or "maybe" contact us ! For immediate assistance and to discuss laboratory costs and daily fees, call 717 299 6860. Ask for Dr. Heiden.